The West London Choir is a non-auditioning community choir led by musical powerhouse, MJ Paranzino, the multi-talented singer/songwriter and musical director.
MJ believes that singing is a joyous and mutually uplifting experience for both audience and performer - and good for your health too!
The choir is involved in community outreach, performing new choral pieces and an established repertoire, as well as at weddings and other celebrations.
2012 ...
We've been so busy we haven't had time to update this page! See our Facebook page for our recent activities.
2011
What an exciting year it was, as you will see below – and 2012 will be even better!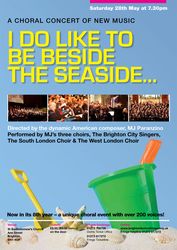 Brighton Festival Fringe/Citroen Pop-up Choir
Every year, MJ asks composers from all musical genres to write new choral works to a specific theme. For 2011, the theme was I Do Like To Be Beside the Seaside, and on May 28, for the second year running, MJ's Choirs (including The West London Choir) with 200 adult voices in total, performed five new pieces in the beautiful St Bartholomew's Church. It was a fantastic evening, followed by a rollicking after-show party. Go to the choir's Facebook page for photographs of the event.
At the start of the Brighton Festival Fringe, MJ's Choirs were filmed performing an impromptu pop-up choir event to The Kaiser Chiefs I Predict A Riot for the festival's sponsors, Citroen - watch the clip on the homepage if you haven't already.
Songs of Praise
In July, MJ's Choirs were asked by BBC to appear in a Songs of Praise special filmed at Air Studios, featuring Mavis Staples, part of the marvellous Staples Singers. It was a very exciting and unique experience for all the choirs, performing one of our favourites, Down by the Riverside. Don't forget to watch us on BBC 1, Sunday March 25!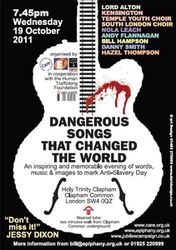 Anti-Slavery Day
As part of our community outreach programme, on October 19, the choir performed at the anti-slavery concert, Dangerous Songs that Changed the World in Clapham, south London. MJ arranged two anti-slavery songs from the past for the choirs to sing - Harriet Tubman and Amazing Grace. It was an awe-inspiring event and made us all aware that this is still an ongoing and shocking problem which must change in the future. You can watch clips of the choir at the Anti-Slavery event on YouTube, as well as photos of the event on our Facebook page.
Pop-up Choir for Channel 4
On December 6, MJ and her choirs performed another pop-up event as a backdrop to a surprise marriage proposal in Covent Garden, London, filmed by Channel 4 (how about that!) to appear on Valentine's Day (Feb 14) in the programme Love and Relationships. We're not giving the name of the song away, so don't forget to watch the programme and find out!
2010
Pakistan Flood Relief Charity Concerts
Northern Pakistan has been hit with the worst flooding in 80 years – entire villages have been washed away, thousands have perished and millions have been affected in some way.
In October and November 2010, The South London Choir were joined by The West London Choir, The Brighton City Singers, and children from local primary schools, in organising two charity concerts to raise funds and aid for the flood victims of Pakistan. Accompanying the choral pieces (sung by over 200 adult voices), there were electric performances from Pakistani musicians and dancers, delicious authentic Pakistani food along with cakes, pies and cupcakes to eat, with jams, jellies and chutney all made by the community to raise funds. There were guest speakers who enlightened the audience on the arts, culture and history of the country, as well as poetry readings from the school children that they wrote themselves. Check out both the choir and childrens' performances on YouTube. The concerts raised over £5500, which was donated to Pakistan Human Development Fund UK and food and aid have been sent on our behalf to the affected areas.
Celebrate Community

As part of the Wandsworth Arts Festival seven local choirs, including the South London Choir, made Tooting come alive to the sound of song for the Shimmy Sing! Led by MJ, groups of singers delighted residents and shoppers by serenading them from various locations in the high street before all joining together for a lively choral performance. The highlight was 'Celebrate Community', a song composed especially by MJ for this event, commissioned by Wandsworth Arts. The choir also performed 'Celebrate Community' at The Shimmy! - a day of free and spectacular outdoor arts.
Walls of Sound at Brighton Festival Fringe
On May 1st 2010, as part of the Brighton Fringe, The West London Choir were joined by MJ's two other choirs, The Brighton City Singers, and the The South London Choir in a 200 strong chorale of new music titled 'Walls of Sound', arranged and directed by MJ herself. The concert was held at the beautiful St Bartholomew's Church in Brighton, to a full house and enthusiastic audience.